Secure Solutions for Dispensing Water
---
Product Features
---
Secure Hauler Access
Haulers access the station using a reloadable swipe card and PIN number. Only permitted haulers in good standing can use the station.
Durable & Tamper-Proof
Stainless steel, lockable doors, tamper-proof card reader/keypad.
Simple to Use
Display prompts guide haulers through transactions, making selling bulk water a simple, easy to understand process.
Automated Records
All data including date/time, customer, volume, cost and more are automatically recorded and printed on hauler's receipt.
Temperature Controlled
Optional air-conditioning or heating means Portalogic stations outperform even in extreme climates.
Integration
Multiple customizable models can integrate with existing equipment such as flow meters and valves.
Flexible Fill Point Options
Whether you need points for overhead water truck filling, or more residential friendly side fill points, our water fill station designs support either, or both.
Multiple Payment Methods
Our stations support multiple payment methods, like credit, swipe card, RFID readers, and coin acceptors for simple coin operated bulk water dispensers.
Complimentary Software
Any purchase of supporting Portalogic stations comes with free installation of our Portalogic water management software on any number of PCs.
Models
---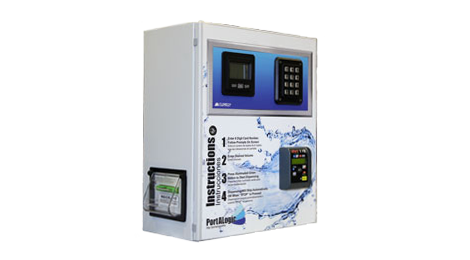 FS-10 Bulk Water Fill Station
length: 15.75" width: 9" height: 19.5"
Add an easy revenue stream with the FS-10, an affordable automated system for monitoring residential and commercial bulk water sales. Offering credit/debit card payments and a PIN or FOB system for recurring/volume customers, the FS-10 is simple to use. It is also capable of setting a water volume maximum, and is expandable for multi-station dispensing sites.
The FS-10 can be sold separately or as a total solution, including enclosures, valves, back flow preventers, freeze protection and water truck filling options.
FS-20 Bulk Water Fill Station
length: 24" width: 14" height: 24"
The FS-20 water fill station is tamper-proof and simple for haulers to use. This station provides secure hauler access by PIN or swipe card.
It is an outdoor rated, wall or strut mounted enclosure that offers total flexibility. The FS-20 can interface with and control remote devices such as valves, meters, pumps and much more. Available with credit card terminal for easy customer payments, or with coin acceptor for a simple coin operated bulk water station.
FS-22 Bulk Water Fill Station
length: 24" width: 24" height: 68"
The FS-22 water fill station is secure and manages volume.
This water dispensing station has all the functionality of the FS-20, but also includes a mounting enclosure which houses a heated and insulated metering control valve. A simple turnkey filling system.
FS-72 Bulk Water Fill Station
length: 72" width: 72" height: 67.5"
The FS-72 water fill station is the complete solution for water dispensing.
This station has all the functionality of the FS-20, but also includes a full walk-in type enclosure for added temperature and security control. Enclosed are backflow preventers, valves, meters, drains, and much more. A complete turnkey filling system.
Options
Solar Powered
Stations can be powered by solar energy for remote installations
Cold Climate Package
Heaters, insulation, and heat tracing can be added to protect the station in cold climates
Hot Climate Package
Air conditioners and sunshields can be added to protect the station in hot climates
Gate/Door Control
The station can interface with automatic gates and doors if needed
Station Operation
Step 1
Hauler connects truck to inlet and turns the switch to "Start"
Step 2
Hauler uses swipe card or enters PIN
Step 3
Hauler follows display prompts and enters information such as desired volume
Step 4
Inlet valve opens, "System Ready" light illuminates, and hauler fills their truck
Step 5
Hauler turns the switch to "Done" and a receipt is printed detailing the transaction